Microsoft has released Edge 83 today, May 22, 2020, to the desktop users and it includes support for syncing extensions, auto profile switching and more.
Microsoft Edge 83 is another major feature update for the Chromium-based browser on Windows 10, Windows 7, Windows 8.1,  and macOS.
Microsoft Edge 83 update is rolling out in a phased manner, as opposed to a quicker and wider release. Initially, only devices that fall within an "upgrade value range" will receive major feature updates like this, and the approach will help Microsoft in getting focused feedback.
Those who install the update first assess the new Edge browser, and their feedback or telemetry data would be evaluated to identify any new-found bugs.
The progressive rollout currently applies only to Windows 7, Windows 8 & 8.1, and Windows 10 versions of Microsoft Edge.
What's new in Microsoft Edge 83
Here's everything new, improved, and fixed in Edge 83 update:
Extensions sync
Microsoft is finally turning on extensions sync support in Edge. It allows you to sync your extensions across all installations of Edge on desktop operating systems including macOS and Windows.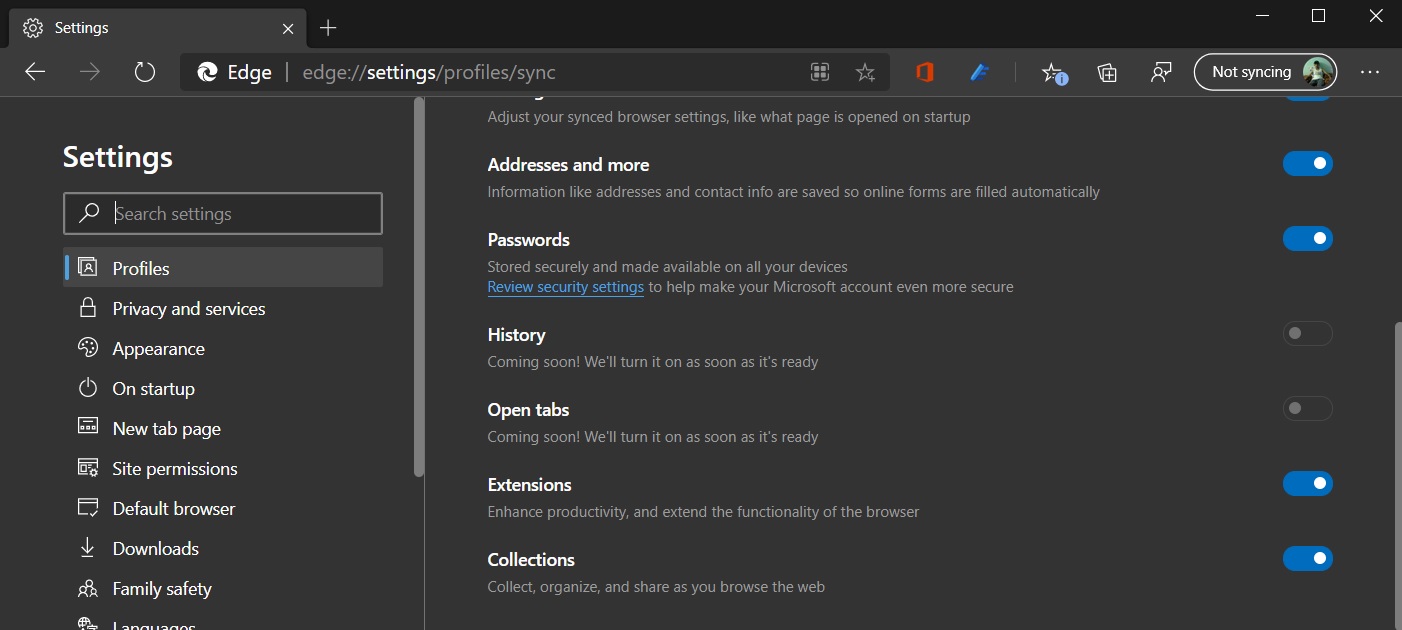 Microsoft says that both extensions downloaded from Edge add-on store and the Chrome Web Store are supported. The feature needs to be enabled from the settings screen after updating the browser.
Automatic Profile Switching
Microsoft is also introducing automatic multiple profiles switching feature, which aims to automatically choose your work profile when you navigate to a site requiring authentication from work or school account when you are on your personal profile.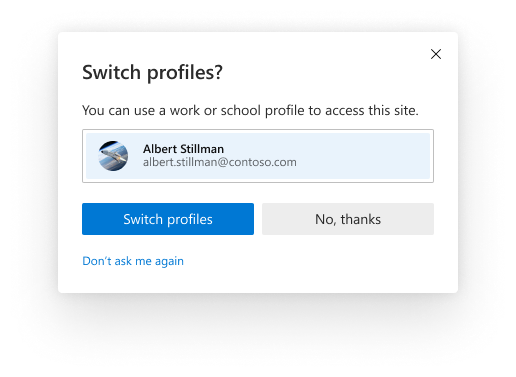 Microsoft Edge's profile switching feature will help you keep your work and personal data separate when you work from home.
Collections is getting better
Collections feature is also getting better. You can now use it to drag and drop items to a collection without opening the collection. When you the drag and drop an item, you can also choose a location in the collection.
Another change allows you to add multiple items to an existing collection. To add multiple items, you need to select the items and drag them to the collection.
Immersive Reader
Immersive Reader is also getting support for adverbs in the Parts of Speech experience. If you read an article in the Immersive Reader, you can now turn on Adverbs within Parts of Speech in the Grammar Tools.
Once enabled, Grammar Tools will highlight all the adverbs on the page.
Microsoft is adding another feature that would allow you to select any content on a webpage and open it in Immersive Reader.
Microsoft Defender SmartScreen improvements
Microsoft Edge update brings several improvements to the Microsoft Defender SmartScreen service.
The update improves protection from malicious sites that redirect when loading. Such webpages will be completely replaced with the Microsoft Defender SmartScreen safety page.
Microsoft Defender integration in Edge will also prevent audio and other media from playing on malicious sites.
Here's a list of all improvements and fixes:
You can now exempt certain cookies from automatically clearing when the browser closes.  To use this feature, go to edge://settings/clearBrowsingDataOnClose and enable the "Cookies and other site data" toggle.
Introduces improved message on the Downloads management page for insecure downloads that have been blocked.
Link doctor provides host correction and a search query to the users when they mistype a URL.
You can now set Microsoft Edge as their default browser directly from Microsoft Edge Settings.
Several DevTools updates, including new remote debugging support, UI improvements, and more
Download Microsoft Edge 83 offline installers
If you can't wait for the update to roll out to your device, you can head to the Microsoft Edge's enterprise page and follow these steps to download Edge 83 offline installer:
Select "Stable 83" under Channel/version.
Select "Edge 83.0.478.37".
Select the platform
Click on 'Download'.
Source link